I just finished On the Road by Jack Kerouac. I don't think it has EVER taken me this long to finish a book. I've been reading it for over a month.
AND I DIDN'T LOVE IT – AT ALL. But I want to qualify that sentiment.
I didn't feel like aim of this book was a literary one. It's more about documentation – of Kerouac's experiences with Neal Cassady (in the book each are represented by the narrator Sal Paradise and Dean Moriatry respectively) and of the experiences of young people in America at the time – a documentation of the collective consciousness of the country's disillusioned youth. In that way, it's definitely significant historically and culturally.
It spoke in a new voice, with a new cadence, at a new rhythm – fast paced, wild – MAD.
"The only people for me are the mad ones, the ones who are mad to live, mad to talk, mad to be saved, desirous of everything at the same time, the ones who never yawn or say a commonplace thing, but burn, burn, burn, like fabulous yellow roman candles exploding like spiders across the stars and in the middle you see the blue centerlight pop and everybody goes "Awww!"
The above quote

pretty much

sums up the entire feeling of the book in manner and matter.
It's written wildly and it focuses on the uninhibited BEAT generation.
None of this seems revolutionary to us now – but if you think of these people and characters in the context of the buttoned up times of the late 40s and early 50s, it becomes positively sinful and seductive – it becomes a new trend and era. We know that now, but at the time, this book CREATED (or labeled?) an era, a movement – something that could be pointed to, admired, aspired to, and duplicated.
I appreciate that - I get it - but as a standalone piece of literature On the Road wasn't for me. I know that's an unpopular opinion, but had I read this book unaware of its importance and context, I would have honestly regretted reading it (which sounds harsher than the way I intend it – so let me explain).
The books I enjoy are written deliberately, carefully – with care given to word choice, syntax, turns of phrase… I love the craft of writing - and the literature I love is artful, though not self-conscious. 'On the Road' was the exact opposite – everything seemed incidental. I felt like the novel's action was captured as it happened (which I know isn't true. The entire book was written during a 3 week caffeine binge on a seamless scroll) and we, the readers, were scrambling (as the narrator Sal does after Dean) to keep up with the momentum of the machine.
Jane Austen comments on the condition from which Kerouac and his narrator seem to suffer in her novel (one of my favorites), Pride and Prejudice; Mr. Bingley says (while at the equivalent of an Austen era kickback):
"My ideas flow so rapidly that I have not time to express them…" to which Mr. Darcy replies, "The indirect boast; for you are really proud of your defects in writing, because you consider them as proceeding from a rapidity of thought and carelessness of execution, which, if not estimable, you think at least highly interesting. The power of doing anything with quickness is always prized much by the possessor, and often without any attention to the imperfection of the performance."
That pretty much sums up how I feel about 'On the Road'. Jack Kerouac himself is quoted as having said, "My fault, my failure, is not in the passions I have, but in my lack of control of them".
But it all makes perfect sense (so was it deliberate?). The characters in the book are spontaneous, haphazard and MAD, always in pursuit and on the move (on the road…) – so if this book was written with too much structure, too much order or attention to consequence it would have felt terribly, terribly wrong.
So I can't say I HATED On the Road - it just isn't my kind of novel. I'm only one person and these just happen to be my reading preferences. I've wanted to read this book for a while. Now I have. Back to regular programming. Up next are 'The Mystery Guest', 'Revolutionary Road', and 'The Age of Innocence'.
Favorite quotes (that weren't already mentioned):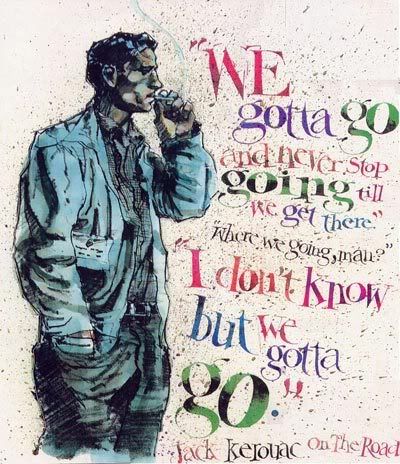 "I like too many things and get all confused and hung-up running from one falling star to another till i drop. This is the night, what it does to you. I had nothing to offer anybody except my own confusion."
"Everything happened."

"He could hardly get a word out, he was so excited with life."

"He's never hung up, he goes every direction, he lets it all out, he know time, he has nothing to do but rock back and forth. Man, he's the end!"




yea... the whole book is like that.